The Contents of Our Support
As an ODA consultant, we utilize our extensive experience and domestic and international network, and we are providing advice regarding the creation of proposals by private companies. After the adoption of a proposal, we conduct the necessary adjustments and coordination with JICA and the client company, and technical support and report summarization. We provide consulting service based on the requests of private companies.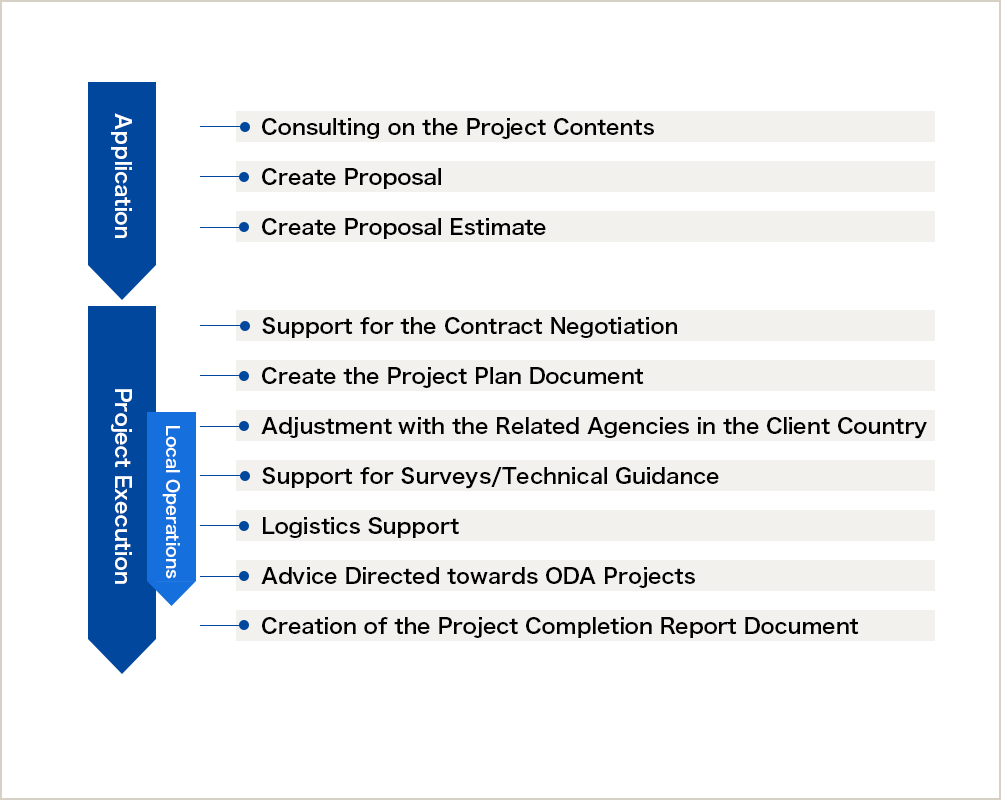 Chart: Small and Medium-Sized Enterprises/SDG's Business Support Project
Countries and Areas in Which INTEM has Demonstrated Expertise Based on our Business Record
Countries in Which INTEM Has Demonstrated Expertise
Asia
Indonesia, Philippines, Cambodia, Myanmar, Laos, Vietnam, Bangladesh, Maldives, Mongolia
Central Asia
Turkey, Jordan, Iran, Egypt, Tunisia, Morocco
Africa
Senegal, Guinea, Benin, Côte d'Ivoire, Ghana, Nigeria, Mali, Niger, Burkina Faso, Tanzania, Ethiopia, Rwanda, Uganda, South Africa, Mozambique, Lesotho, Madagascar, Democratic Republic of the Congo
Oceania
Vanuatu, Papua New Guinea, Timor-Leste
Central America
Nicaragua, Panama, Saint Vincent and the Grenadines, Guatemala, Columbia, Ecuador, Chili, Peru, Bolivia, Paraguay, Brazil
Areas of Expertise
Fisheries Development (Aquaculture, Distribution/Processing, Fishery Development, Resource Management) Food Quality Management, Village Development, Local Product Development, Industrial Human Resource Cultivation, Education (Primary/Secondary Education, Vocational Training, Higher Education, Science and Mathematics Education) Healthcare Industry, In addition, Waterworks Facilities, etc.
For countries outside those listed above, it is possible for us to respond to requests in our areas of expertise.
Our Business Results with Private Company Related Business Up Until Now
Myanmar – " Feasibility Survey Related to a Safe/High Quality/Hygienic Medical Oxygen Supply System" (2015 – 2016)
Myanmar – " Verification Survey with the Private Sector for Disseminating Japanese Technologies for establishing supply chain-management system for safe, high quality and hygienic medical oxygen in Myanmar " (2017 – Present)
Mongolia " Feasibility survey for raising quality of perinatal care through the introduction of Cardiotocogram(CTG) ". (2016 – 2017)
Indonesia " Feasibility survey on the improvement of freshness and fishes distribution system using the slurry ice device " (2016 – 2017)
Cambodia " Feasibility survey for business development of hygienic and high-value-added processing for agriculture/aquaculture products ".